Erickson frames are built by master frame builders using a variety of techniques that make them classic yet absolutely unique. Click each image below to see more examples of that type of construction.
Lugged
Classic lugged design, but far from ordinary. Your Erickson's lugs can range from simple and understated to intricate, beautiful designs.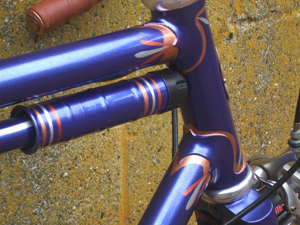 Fillet Braze
Fillet brazed construction creates a completely seamless look. Before welding frames became the norm, fillet brazing was the only way to create a completely custom geometry. Unlike welding, fillet brazing offers a completely seamless look and remains the reserve of the most highly skilled frame builder.